New Brunswick's Potato Industry Features A "Cluster" Of Technology, Research And Farming Excellence
The New Brunswick industry and government sectors have combined to create a cluster of agricultural excellence for the potato industry.
Potato Development Centre
After the province and industry consulted on how to best realign provincial resources, the potato development center, pictured above, was created. The center features scientists and other potato industry specialists. The Centre also supervises the Plant Propagation Centre and the Bon Accord Elite Seed Centre.
BioAtlantech
BioAtlantech, a provincial and industry supported entity, is working to develop several genomic initiatives.
AAFC Potato Research Centre for Canada, Fredericton, NB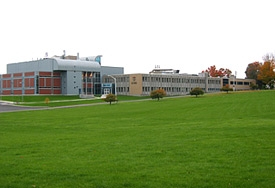 The federal governments Potato Research Centre is located in Fredericton. Some of the industry's best-known scientists work from this centre.
McCain Potato Technology Development Centre, Florenceville, NB
Private industry is also well represented in this group. For example, McCain Foods has established a Potato Technology Development Centre in Florenceville, New Brunswick. Potatoes NB, the organization which represents New Brunswick's potato growers, works with all sectors of the industry to ensure progress on behalf of potatoes. One example is the Agricultural Certification Services Laboratory in Fredericton, which is owned by the growers of New Brunswick. The Centre is involved in research and is accredited for disease testing.
Plant Propagation Centre, Fredericton, NB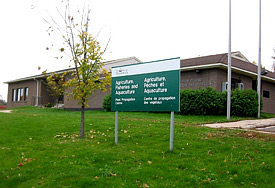 Industry Quality Assurance is the basis for all the Propagation Centre's activities, which include:
Operation of the Canadian Potato Variety Repository
Initiation and multiplication of disease-tested tissue cultured potato material for provincial potato producers
Multiplication and distribution of material for variety evaluation trials
Providing training in tissue culture practices and procedures
Conducting adaptive research trials in the area of nuclear stock production
Quality is key to New Brunswick's success. All standards imposed by the Canadian Food Inspection Agency are met or exceeded by the Centre. Clients from many countries welcome the opportunity to source material from, and utilize the technical expertise available at the Plant Propagation Centre.
The Canadian Potato Variety Repository
The Canadian Potato Variety Repository is housed at the Plant Propagation Centre, and it contains a collection of over 400 varieties. It provides a selection of commercial varieties and seedlings for use by the Canadian potato industry and a host of international clients.
Bon Accord Elite Seed Potato Centre, Bon Accord, NB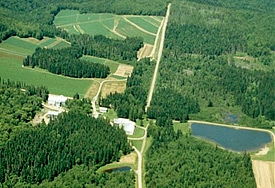 Bon Accord manages programs designed to:
Produce disease-tested seed potatoes in controlled environments
Distribute stocks to selected growers throughout the province
Provide stocks for re-introduction at the Plant Propagation Centre in Fredericton
Conduct adaptive research in the areas of greenhouse and field production of high class seed
Develop protocols and production techniques
Bon Accord and the Plant Propagation Centre regularly host international and trade technical delegations. The Farm maintains a completely closed production system and stocks removed from the premises are not eligible for re-entry.
New Brunswick Seed Potato Growers
Many independent New Brunswick growers have also developed an "on farm" nuclear stock production industry of world class standards. On-farm facilities and material must meet the stringent requirements imposed by the Canadian Food Inspection Agency.
New Brunswick seed potato growers follow strict quality control guidelines. They perform inspections that combat pests and disease. Additionally, these inspections fulfil the criteria of the national seed potato certification system and assure customer satisfaction.
Agricultural Certification Services
Their highly specialized efforts are supported by a grower-owned and operated laboratory, Agricultural Certification Services. This operation provides federally accredited BRR, Virus, Viroid and PSTVd analysis and virus-freeing to growers and buyers here in New Brunswick and across North America.
These commitments to potato expertise and leadership, along with generations of experience have resulted in making New Brunswick seed potatoes a superior product marketed around the world.